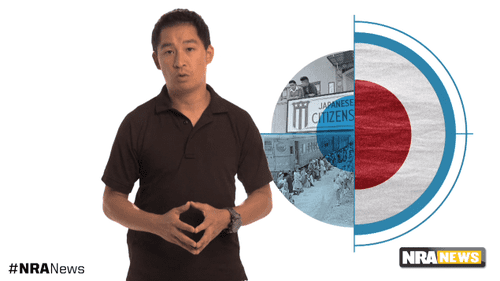 Chris Cheng, a former Googler and winner of the History Channel's fourth season of Top Shot, is an openly gay man on a mission to change the face of gun rights activism. Profiled in the Atlantic this week, Cheng reflected on how going public with his long-time passion for firearms gave him the push to officially come out in hopes of beginning a conversation about queer proponents of the Second Amendment.
Following his Top Shot win Cheng signed on as an NRA news analyst, solidly orienting his career towards gun advocacy.
"I think that this is an opportunity for the NRA and our community to accurately portray the diversity that already exists in the community," Cheng explained.  "We've allowed some prevailing stereotypes to take hold, and we're not challenging them."
The conversation around gay gun rights activists is a complicated one. Organizations like The Pink Pistols blur the line between a  conservative defense of the Second Amendment, a social club, and a movement designed to empower gay individuals to fight homophobia by arming themselves. By and large the march of progress for LGBTQ rights has been powered by activism on the left, while gun advocacy is grounded firmly on the right. Cheng, whose Wikipedia page claims that he has expressed interest in pursuing public office, has staked out a spot for himself that, aside from his views on guns, is politically neutral.
"I do plan on advocating for gay rights." Cheng told Guns.com late last year. "Rights are rights, and the concepts of liberty and freedom equally apply to gun and gay rights in my book. I do not expect people to agree with my positions on either, but I do expect the freedom to exercise my rights as an American, in the pursuit of happiness."
Watch Chris Cheng's first appearance as an NRA commentator AFTER THE JUMP…