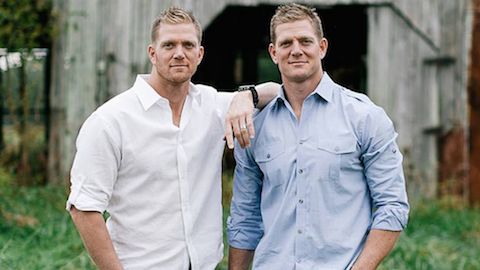 Would-be HGTV hosts David and Jason Benham have been gearing up for their headline appearance at an anti-LGBT 'family' summit today by making the rounds on right-wing Christian radio programs sharing their thoughts gays – such as how the battle against LGBT rights is a really just a battle against a "parallel kingdom run by Satan." that seeks to "rob, kill, and destroy."
You know, the usual right-wing nuttery… 
Speaking to The Family Leader's Tamara Scott, David Benham said the following:
"If my son throws food across the table and I say, 'Bailey, stop throwing food' and he says 'I'm sorry Dad, I'm just a food-thrower.' It's like no you're not, your behavior is not you. It doesn't define you. So its very important that we speak to the fact that homosexuality is a sin that can only be redeemed by God when we repent. But the idea of a 'homosexual agenda' that seeks to capture the nation and capture children's curriculum and capture television and entertainment and laws – that is an idea that is evil and wrong and needs to be dealt with." 
Listen, AFTER THE JUMP…
The Family Leadership Summit – the annual summit of Iowa's leading anti-LGBT group The Family Leader led by Bob Vander Plaats takes place today in Ames, Iowa. Other guests include Sen. Ted Cruz (and his insane pastor father), failed Virginia gubernatorial candidate Ken Cuccinelli, Mike Huckabee, Bobby Jindal, Rick Perry, Rick Santorum, and many, many more..
Stay tuned today and tomorrow for more from the anti-gay extravaganza.