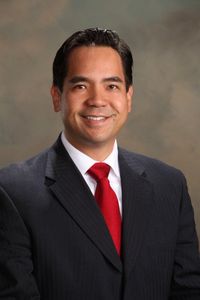 Utah Attorney General Sean Reyes has asked the U.S. 10th Circuit Court of Appeals for an extension in filing his appeal of a federal judge's decision that the state must grant spousal benefits to the nearly 1,200 same-sex couples that were married after the state's ban on gay marriage was struck down. If granted the extension, Reyes and his office would have until October 22 (instead of September 22) to file. The Salt Lake Tribune reports:
Attorney are asking for the extension due to the fact that the case is "factually and legally complex" and that the attorneys on the case already have a busy workload, according to the brief.
The state notes in its brief that he plaintiffs oppose their motion for an extension.
The suit was brought by four couples who were married in the immediate aftermath of the historic Dec. 20 decision by U.S. District Judge Robert J. Shelby that overturned Utah's voter-approved ban on same-sex unions.
After the U.S. Supreme court halted all same-sex weddings to allow Utah an opportunity to appeal the case, the state refused to extend spousal benefits to those gay and lesbian Utahns who had married, saying the stay ensured the state could continue to operate under its previously established "status quo."
Following SCOTUS' granting a stay, U.S. District Judge Dale A. Kimball ordered that same-sex couples that were wed in Utah must be granted the same benefits as their heterosexual counterparts. However, the U.S. Supreme Court again intervened, staying Kimball's ruling pending the state's appeal.