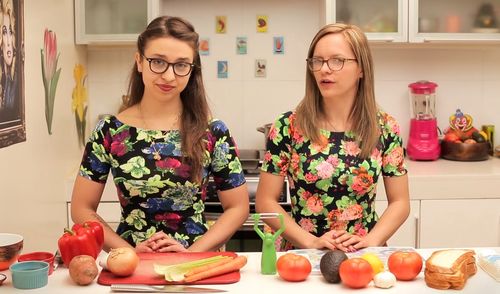 Emma Jane Gonzalez and Sasha Winters are two fierce ladies, in and out of the kitchen. Their new not-to-be-missed web series, "Eat Our Feelings," is a hilarious and informative hybrid of scripted comedy and Food Network cooking show. A truly unique experience, you'll find yourself salivating and laughing at the same time. 
The co-stars/writers/chefs have released two episodes already (with help from a dedicated crew, including "Whatever this is." and "The Outs" helmer Adam Goldman), and both hit the spot. Episode one finds Sasha and Emma battling with a local Brooklyn vendor to see who can make the most delicious grilled cheese, while episode two focuses on their failed romances and drunken kitchen escapades. 
The show is a hit, but if two episodes don't fill you up, consider donating on the "Eat Our Feelings" Kickstarter page!
Bon appétit, AFTER THE JUMP…