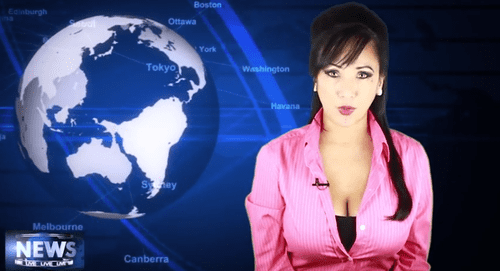 Last week, we reported that the junk science, ex-gay National Association for the Research and Therapy of Homosexuality (NARTH) was undergoing a rebranding of sorts and would launch a new organization called the Alliance for Therapeutic Choice and Scientific Integrity (ATCSI).
Included in the new organization's roll-out was an odd, fake news video announcing the change that, while not featuring any 'ex-gays,' it did included a rather busty "reporter" claiming that ATCSI would better "meet the needs of a new generation."
That "reporter," Jean Hudson, however, is a YouTube freelancer who is now condemning the ex-gay organization, saying she was shocked to learn about the group's harmful practices. 
ThinkProgress reports:
Hudson was not familiar with NARTH's background, and the brief script she was asked to read only announced the new organization and did not actually refer to the ex-gay therapy the group promotes. After learning of the group's mission, she described it as "disturbing," adding, "I can definitely say that if I had known, I wouldn't have agreed to the video request."
Hudson is a video freelancer who contracts with individuals to produce news clips for a variety of purposes, including news announcements, commercial promotions, and special occasions (birthdays, weddings, etc.). She told ThinkProgress that her video services were paid by a "dpruden," which likely refers to David Clarke Pruden, who is vice president of operations for NARTH and was the president of Evergreen, a Mormon ex-gay ministry, until it closed earlier this year.
"The news of my video services used to promote a website that is reportedly anti-LGBT is very troubling," Hudson told ThinkProgress. "First, I apologize to my friends, family, clients, and neighbors who are LGBT supporters. I have not and will not betray or have ever deceived you. You know me better."
The video has since been removed from YouTube and NARTH's website.