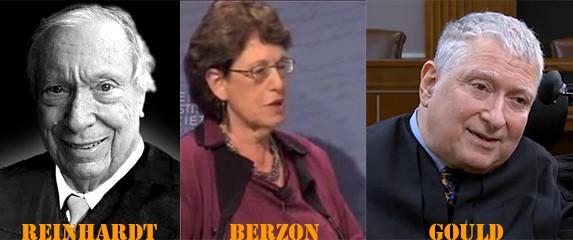 The 9th Circuit Court of Appeals has announced the 3 judge panel that will hear challenges to same-sex marriage bans in Idaho, Hawaii and Nevada: Judges Stephen Reinhardt, Ronald M. Gould and Marsha S. Berzon. All three were appointed by Democrats and, as Equality on Trial points out, are considered to be "some of the most liberal appeals court judges in the country":
Judge Stephen Reinhardt, nominated by President Carter, is a highly respected liberal judge, known for writing the opinion in the Prop 8 case when it came before the Ninth Circuit; Judge Reinhardt also wrote the opinion inSmithKline Beecham v. Abbott Labs, which held that a heightened level of judicial scrutiny is required for laws that discriminate based on sexual orientation, and that jurors can't be discriminated against on that basis.
Judge Marsha Berzon, nominated by President Clinton, once clerked for Justice William Brennan, and is considered to be a solidly liberal judge. She joined Judge Reinhardt's opinion in SmithKline as well.
The third judge on the panel is Judge Ronald Gould, also nominated by President Clinton. Judge Gould wrote the Ninth Circuit's opinion in Witt v. Dept. of Air Force, challenging Major Margaret Witt's discharge from the military on the basis of her sexual orientation under Don't Ask, Don't Tell. That decision held that heightened scrutiny is required under the Supreme Court's decision in Lawrence v. Texas, and it led to an eventual ruling that Witt's discharge was unconstitutional.
The appeals court's decisions in SmithKline and Witt had already ensured a more difficult path to victory in the cases for the state officials and groups defending the same-sex marriage bans. This panel makes it even less likely, though not impossible, the bans would be upheld.
The 9th Circuit assigns cases to judges on a random basis.
You'll recall that when the Prop. 8 case came before Judge Reinhardt, he denied a request that he recuse himself from the case because his wife, head of the Southern California chapter of the ACLU, was "an outspoken opponent of Proposition 8 and taken part in legal proceedings to overturn the voter-approved law."
The cases are set to be heard on Setpember 8th.