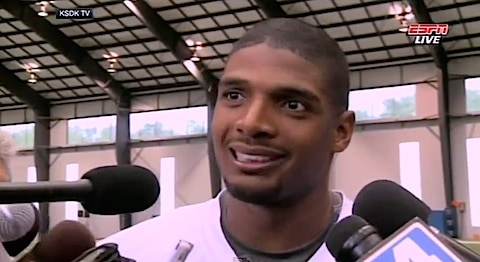 Michael Sam, who was cut by the St. Louis Rams on Saturday, looks set to join the Dallas Cowboys practice squad if he passes a physical exam, NFL.com reports:
The Dallas Cowboys plan to bring the free-agent defensive end in for a physical on Wednesday, a team source told NFL Media Insider Ian Rapoport. If the rookie passes, Sam will be added to the team's practice squad…
…The Cowboys spent Tuesday calling their own players to gauge reaction to making Sam a Cowboy. With the Rams out of the picture, Dallas looms as a solid fit for last year's SEC o-Defensive Player of the Year because of the team's 4-3 scheme and a desperate need for help on defense.
ESPN and CBS Sports confirmed the reports…
Sam's pre-season showing (2.5 sacks, including Johnny Manziel of the Cleveland Browns) was nothing to scoff at, leading some to speculate that homophobia in the NFL was to blame for the Rams snub.