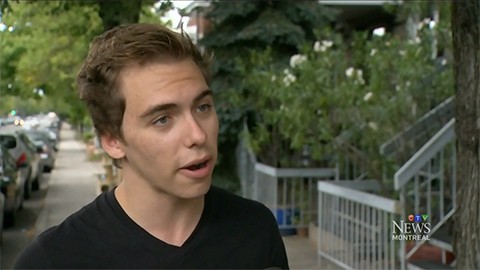 A bar in the Latin Quarter of Montréal has come under allegations of homophobia after kicking out a gay couple because a security guard spotted them kissing. As CTV News reports, Universite de Montréal student Gabriel Dion says that while many heterosexual couples were seen making out in the bar, he and his companion were singled out because they are gay:
"We started making out, and hugging each other and that's it," he told CTV Montreal.
Dion said he and the man moved into a stairway for privacy.
"We definitely know some people are not comfortable with that, especially in a straight bar, so we tried to be as discreet as possible. But then a security guard came in and just told us to leave," he said.
The bouncer wouldn't let him and the other man their get their bags before leaving, so they had to ask friends to bring the bags outside, he said.
"I definitely felt disrespected. I felt that there was a lot of prejudice, basically," he said.
However, bar owner Maurice Bourassa insists he did not kick Dion and his partner out because they were gay but rather because they "were in a staircase that's used as a fire escape and therefore must be kept clear at all times" and, according to Bourassa, "the men were conducting themselves inappropriately, with one man lying on top of the other. Their behaviour, he says, was more appropriate for a bedroom than a public place." 
You can watch a news report from CTV on the incident HERE.