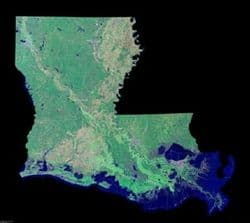 Late last week, Forum for Equality Louisiana and several gay couples filed their notices of appeal in Louisiana Federal Judge Martin Feldman's ruling earlier this month upholding the state's ban on marriage equality. 
Notably, Judge Feldman's bizarre, hateful opinion was the first (and so far only) federal loss for equality in this post-DOMA court landscape. The appeal now goes to the New Orleans-based 5th Circuit Court of Appeals, where a Texas gay-marriage case is also pending. 
The Shreveport Times reports that Michael Johnson, the attorney who defended Louisiana's ban, said an appeal of the ruling was to be expected
"We're prepared already to handle that," Johnson said. "We have a very good chance of prevailing in the 5th Circuit."
A win at that level would be even more significant than Wednesday's ruling, Johnson said, because it would indicate a split in appellate rulings, which is often a precursor to a case coming before the Supreme Court.
This case, Robicheaux v. Caldwell, could be the case that finally forces the Supreme Court to rule once and for all, he said.