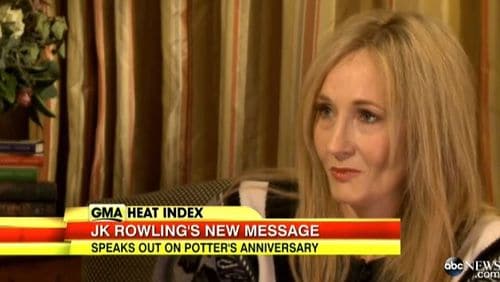 When J.K. Rowling writes something, people pay attention – especially if that happens to involve her taking down a homophobic Twitter "ex-fan" who criticized her for revealing beloved school headmaster Albus Dumbledore was gay. 
Tweeted user @halfelven55ff (who has since taken down his Twitter page):
Once u revealed Dumbledore was homosexual I stopped being a fan. Nice how u blindsided us with that one. Enjoy your billion $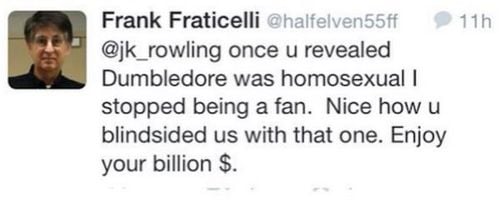 Responded Rowling:
@halfelven55ff I advise you to start following Brian Souter at once. He's much more your kind of person.

— J.K. Rowling (@jk_rowling) September 6, 2014
The Independent reports Rowling was referring to a man who funded a campaign in 2000 pressuring the Scottish parliament to keep Section 2A of the Local Government Act on the books – the act that made it so local governments "shall not intentionally promote homosexuality or publish material with the intention of promoting homosexuality" or "promote the teaching in any maintained school of the acceptability of homosexuality as a pretended family relationship."
AFTER THE JUMP, check out an interview Rowling did last year to commemorate the 15th anniversary of the first Harry Potter novel and why Dumbledore is the character she misses the most.