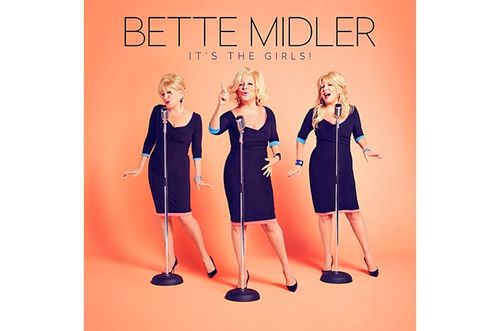 From the people who brought you "Beaches" and "Hairspray: The Musical" comes something gayer than you ever could've imagined. It's the triumphant return of Bette Midler, of course!
"It's The Girls!" was produced by Mark Shaiman ("Hairspray"), and it's dropping November 4 on Warner Bros. Records. The album is sure to push the boundaries of "campy" — from the title's exclamation point to the album's entire premise — covers, but only of girl group hits; it's everything from 30s trios like the Andrews Sisters to TLC.
Midler's enthusiasm for the project is palpable. Talking with Billboard, she says:
I have loved the sound of females harmonizing since I was a kid; I always sang along. Didn't we all? […] I think the idea that you could become part of the group was the thing that endeared me to the girl groups. You weren't just singing along, you were THERE!
Is she still the wind beneath your wings? Buy the album and find out.
Check out the tracklist (also via Billboard) AFTER THE JUMP…
1. BE MY BABY
Originally performed by The Ronettes
2. ONE FINE DAY
Originally performed by The Chiffons
3. BEI MIR BIST DU SCHÖN
Originally performed by The Andrews Sisters
All Vocals by Bette Midler
4. BABY IT'S YOU
Originally performed by The Shirelles
All Vocals by Bette Midler
5. TELL HIM
Originally performed by The Exciters
6. HE'S SURE THE BOY I LOVE (duet with Darlene Love)
Originally performed by The Crystals
7. MR. SANDMAN
Originally performed by The Chordettes
8. COME AND GET THESE MEMORIES
Originally performed by Martha & The Vandellas
9. TOO MANY FISH IN THE SEA
Originally performed by The Marvelettes
10. TEACH ME TONIGHT
Originally performed by The DeCastro Sisters
11. WATERFALLS
Originally performed by TLC
12. YOU CAN'T HURRY LOVE
Originally performed by The Supremes
13. GIVE HIM A GREAT BIG KISS
Originally performed by The Shangri-Las
14. WILL YOU STILL LOVE ME TOMORROW
Originally performed by The Shirelles
15. IT'S THE GIRL
Originally performed by The Boswell Sisters