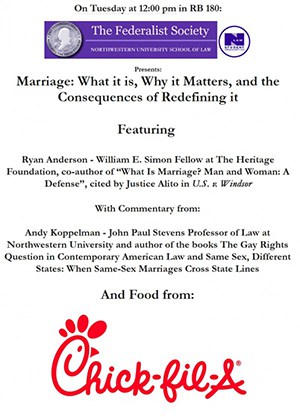 The Northwestern Law School chapter of the Federalist Society on Monday sent out an invitation to a debate on same-sex marriage that prominently featured food from notorious anti-gay fast-food chain, Chick-fil-a. As Above the Law reports, the Chick-fil-a logo is noticeably the largest item on the invitation, which was sent to the entire school's listserv, egging on students who support equality. The response to the invite was fast and furious. One student replied,
As tired as I am of having my rights challenged and up for debate, I am all about conversations and discussions. I look forward to the day when this topic is as inappropriate as a panel on the legitimacy of marriage between those of different races, but I'm willing to be patient.
I am all about free market economy and supporting companies that share your values.
Still, I feel like serving Chick-fil-a is an extremely inappropriate and insensitive decision on behalf of the Federalist Society.
I'm disappointed.
Hope your event goes well. I will not be attending.
While another chose to respond satirically,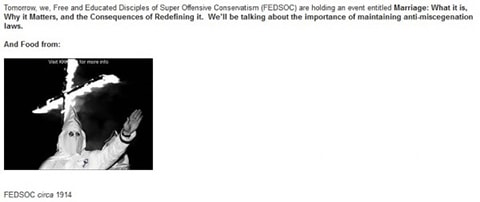 Quickly, a coalition of student organizations rallied together in protest of the Federalist Society's hateful stance, calling on students to wear purple to the event and boycott the "hate chicken" provided:
A coalition of student organizations at Northwestern Law, including OUTLaw, DivCo, ACS, BLSA, LLSA, and NU Dems, highly encourages students to attend tomorrow's FedSoc function in RB180 on marriage equality. Dialogue and discussion on the marriage equality issue are welcome, especially as the anti-equality movement (as exemplified by the FedSoc's speaker, Ryan Anderson) continues to find itself in the minority. A pro-equality message, one that Northwestern Law aims to exemplify, should be heard at the event.
Ryan Anderson, mentioned above, was cited by Supreme Court Justice Samuel Alito in his hateful dissent in United States v. Windsor.