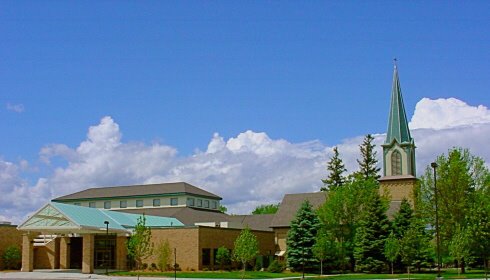 Jamie Moore, music director for St. Victoria Catholic Church in Victoria, MN (pictured) was forced to resign from his post. 
Over the weekend, Moore married his male partner, and as a response, the archdiocese told the church it would be best if Moore resigns. Via CBS Minnesota, Archbishop John Nienstedt said that he was contacted by the church for advice on the situation. Said Nienstadt in a statement:
The … conduct of church employees can inspire and motivate people, but it can also scandalize and undermine their faith. Church employees must … recognize and accept the responsibilities that accompany their ministry.
Nienstadt has a history of anti-gay remarks and recently refused to leave his post despite allegations of sexual misconduct and covering up the sexual abuse of children. 
Moore, meanwhile, is on his honeymoon, and has yet to be heard from on this matter. 
Dan Carroll, who has been a church member for 45 years, provided a quote to CBS: "I think he's a real friendly person. He seems like he gets along with everybody and fits in quite well." And yet, his attitude was more resigned than up-in-arms: "Whatever they [the church] choose for us, that's what we have to put up with." 
The church's Father White, who the Archbishop spoke with directly, says he plans to address this issue in a sermon this weekend.