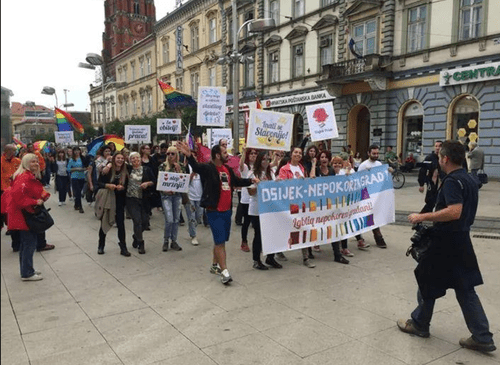 It was a big weekend for Croatian gays, with city Osijek's first-ever pride parade, and with the country's first same-sex civil partnership.
Croatia's populace is overwhelmingly Catholic, and they voted last year to approve a constitutional ban on gay marriage. But on Saturday, the country registered ia civil-partnership between two people of the same sex for the first time.
The ceremony was held in Croatian capital Zagreb. Via Global Post, activist Marko Jurcic of the Zagreb Pride gay rights group told AFP:
History was created in Zagreb as the first life partnership was concluded between two men…It was a brief ceremony held in Zagreb on Friday that was attended also by Administration Minister Arsen Bauk who presented the two with ties.
While Osijek pride attendees were over 150 miles away from Zagreb, the festivities (above) were especially jubilant with the news.
This turn feels a fulfillment of comments made last year by Croatian Prime Minister Zoran Milanovic. In the wake of the aforementioned referendum banning gay marriage, Prime Minister Milanovic emphasized the importance of extended benefits such as hospital visitation and inheritance rights to gay couples.
Prime Minister Milanovic made it clear he did not support the new law, saying:  "I think [the referendum] did not make us any better, smarter or prettier."
For all the progress being made in Croatia, there is still work to be done for gay rights advocates outside the issue of same-sex marriage. Gays in Croatia are still not allowed to adopt, for example.