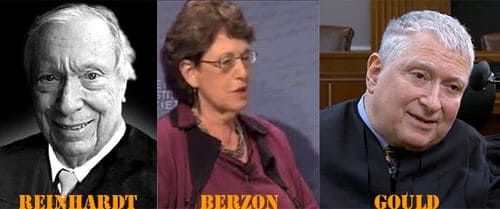 The Ninth Circuit Court of Appeals is scheduled to hear oral arguments in the Hawaii, Idaho and Nevada gay marriage cases today and will be live streaming the arguments from the courtroom in San Francisco.
The feeds will begin shortly before 1pm PT, with Idaho getting 30 minutes per side, Nevada getting 20 minutes, and Hawaii 10. 
Watch the feeds AFTER THE JUMP… 
Last week, we reported on the three judge panel that will hear the gay marriage cases – with Equality on Trial pointing out that the trio are considered "some of the most liberal appeals court judges in the country." 
MSNBC reports that sexual orientation also has "heightened scrutiny" in the Ninth Circuit, which bodes well for a pro-equality victory: 
With heightened scrutiny, defendants (such as state officials arguing on behalf of same-sex marriage bans) would have to show how a law that treats gay and lesbian people differently serves an important or compelling state interest, not just a legitimate one. Heightened scrutiny essentially shifts the burden of proof off of the plaintiffs, and makes laws that discriminate against same-sex couples more difficult to defend.