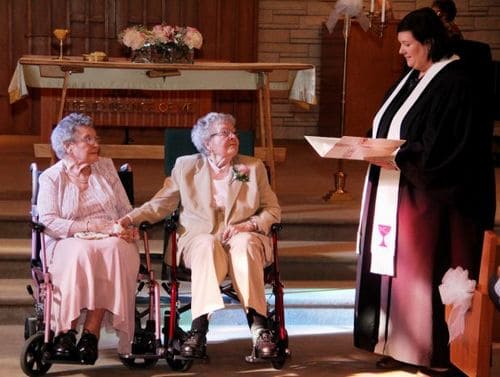 Here's a story from Iowa that'll bring the misty to your Monday. They've been together for 72 years, but Vivian Boyack (91) and Alice "Nonie" Dubes (90) have only just tied the knot.
On Saturday, the two women were married in a small, intimate ceremony of close friends in Davenport, Iowa's First Christian Church.
Guests included Jerry Yeast, 73, a longtime friend who first met the two women as a teenager doing their yardwork. Yeast assured Quad City Times: "I've known these two women all my life, and I can tell you, they are special."
Boyack and Dubes first met in Yale, Iowa — their hometown. In 1947, they moved to Davenport where they live now. Boyack worked as a schoolteacher, and Dubes worked in payroll.
But their small town life hasn't limited the two women from adventure —Boyack and Dubes have traveled extensively, visiting all 50 U.S. states, all the provinces of Canada, and England.
During their wedding ceremony, Rev. Linda Hunsaker acknowledged the couple's longterm commitment, saying: "This is a celebration of something that should have happened a very long time ago."