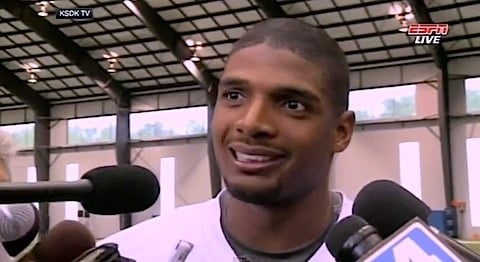 The Dallas Cowboys have officially signed Michael Sam to their practice squad, ESPN reports:
Cowboys coach Jason Garrett is expected to announce the signing Wednesday at his press conference at 11:30 a.m. ET.
With a definite need for pass-rush help, the Cowboys are bringing in Sam, who had three sacks in the preseason for the St. Louis Rams, for an extended look to see if last year's co-SEC Defensive Player of the Year at Missouri can potentially help a defensive line that needs help.
Sam was among final group of players released last weekend by the Rams and went unclaimed off waivers. The Cowboys brought the defensive end in for a physical, and now will see what he can provide.
NFL.com adds that Sam is expected to practice today. NFL Media Insider Ian Rapoport also commented that, "joining the Cowboys is a much better opportunity in his quest to see meaningful NFL snaps. The Cowboys don't have near the depth on their defensive line when compared to the St. Louis Rams, who cut Sam last weekend."
It was only yesterday that the Cowboys announced they were interested in bringing Sam on-board pending his physical and outreach to team members "to gauge reaction to making Sam a Cowboy."