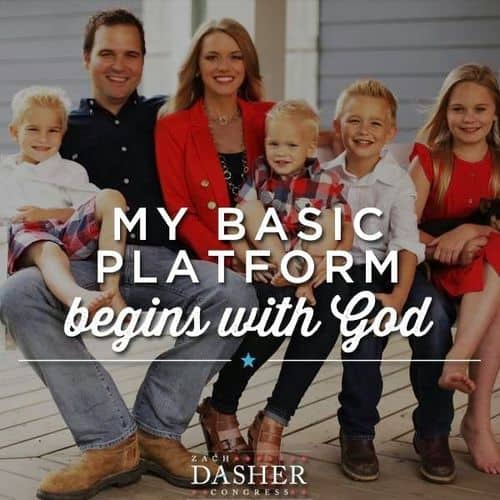 Yes, that's U.S. Congress. The one in Washington.
In news that would have Ruth Bader Ginsburg jumping for joy, Zach Dasher, nephew of Duck Dynasty's Phil Robertson is running for elected office. His platform is the usual Tea Party nonsense you'd expect his campaigns motto is: "My basic platform begins with god."
Pictured is Dasher with his blonde haired/blue eyed family. It may come as little shock that his children are home schooled.
Buzzfeed reports that Dasher's wife, Jil has an opinion of homosexuality. Surprise, surprise, she believes it is "curable."
…she's seen people who have "come out of" addictions like homosexuality in her home. Dasher compares it to an addiction, akin to heroin and alcohol. "I have had folks sit on my couch who have come out of all kinds of addictions; alcohol, heroin, homosexuality, etc and hear them talk of healing and how they were able, with the help of the Holy Spirit, to overcome a life that was destroying them. Who wouldn't want to be a part of that?"
Dasher is running for congress in Louisiana. Thankfully, he is one of five Republicans attempting to unseat incumbent Rep. Vince McAllister, whose recent scandal has left him vulnerable. Interestingly, McAllister has been linked to the "Duck Dynasty" clan before, bringing a member of their family as his guest to the state of the union address last year.