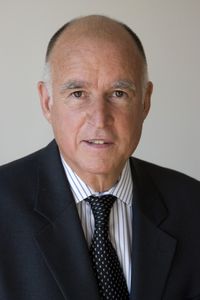 Now this is a far cry from "I think gay marriage should be between a man and a woman."
California Governor Jerry Brown (pictured) has signed four new laws that bolster LGBT rights in the Golden State.
ThinkProgress has a round-up of the four laws. The first makes "gay panic" and "trans panic" legal defenses illegal. Previously, the state's policy was to tell jurors not to be influenced by the plaintiff or defendent's orientation. The Bar Association voted to ban "gay panic" defenses outright, and CA is the first state to act on this.
Another law stipulates that transgender people will have their gender identities respected after death. This law was brought on by the posthumous, tragic misgendering of filmmaker/activist Christopher Lee in 2012.
Health professionals will now have to be trained specifically to work with LGBT and intersex people. The law says it will specifically call for "understanding and applying cultural and ethnic data to the process of clinical care…pertinent to the appropriate treatment of…the lesbian, gay, bisexual, transgender, and intersex communities."
The final law listed by ThinkProgress, while not explicitly aimed after LGBT people, will have a major impact on the community. It protects sex workers from being prosecuted/arrested solely on the grounds of carrying condoms. Trans people are particularly effected, ThinkProgress argues, given that 43% of Trans people have turned to sex work for money at some point.