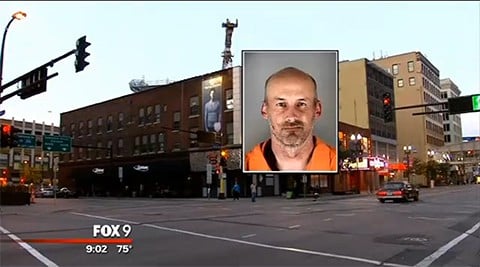 A gay couple visiting Minneapolis from Brooklyn and Philadelphia were targeted and shot with a BB gun by a homophobic Christian man in a popular local gay, KMSP-TV reports. The man, 43-year-old Wayne Steven Odegard, harassed customers at the Saloon, hurling expletives and making disparaging remarks "towards a couple that was holding hands", a public display of affection that Odegard "obviously didn't appreciate":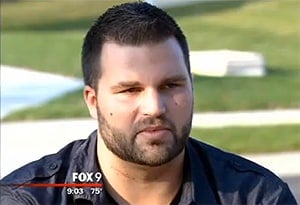 Shortly after his expletives, Odegard's sheer disregard for the establishment, or humanity, then escalated. After yelling gay slurs, he allegedly pulled out a CO2 powered BB gun.
"I ran after him and then it ended up he shot a different gay couple in the leg, with that gun and it went through his jeans and drew blood," [said Tyler Erickson (pictured right), a security guard at the Saloon.]
Before Odegard could run even 30 feet, Erickson nabbed him, arrested him and called police.
"He told me multiple times that I'm going to go to hell and he's going to bring me with him," Erickson said. "He recited a biblical passage — I think it's a deuteronomy passage."
Being that they were from out of town, the couple "joked that they came to progressive Minneapolis and got shot for being gay," according to Erickson. Though neither was seriously injured, Erickson pointed out, "Even if the guy was shot with the same CO2 powered bb gun in the face it would've gone right through his cheek." Odegard now faces second-degree assault and gun possession charges.
Watch a news report on the attack, AFTER THE JUMP…