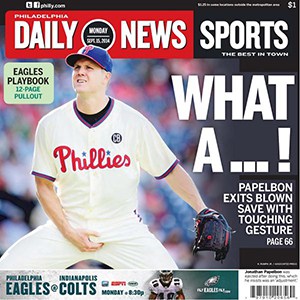 Philadelphia Phillies' Jonathan Papelbon ejected 

after grabbing his crotch in response to being booed by fans. 

Frank Ocean has fired his manager, spurring hopes that a sophomore album is not far off.

Out actor Andrew Scott, who plays Sherlock Holmes' arch nemesis Moriarty on the BBC's Sherlock, talks homophobia:"I don't believe people are intrinsically homophobic. I think they're ignorant, and they need to be exposed to things."

Filming set to begin on the 24th James Bond picture on December 6.

And Jason Bourne is coming back too.

Queen Elizabeth II weighs in on Scottish referendum: "I hope people will think very carefully about the future."

Meanwhile, more than half of LGBT Scots are backing independence: "The online poll of 2,163 Scottish readers of Europe's largest LGBT news service PinkNews found that 54 per cent plan to vote Yes in Thursday's referendum – with 56 per cent of Labour voters for independence."

Tina Fey and Jason Bateman play 'would you rather?'

HRC applies to march in New York's St. Patrick's Day Parade.

Lana del Rey cancels tour due to mystery illness.

Petition: "Allow performers to use their stage names on their Facebook accounts!"

Where will Obama's Presidential Library be?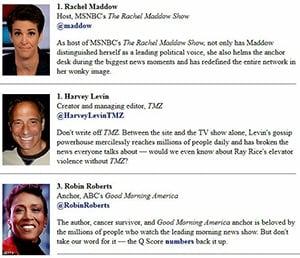 Advocate issues Top 50 LGBT media list.

Denying same-sex couples in Missouri the right to marry is costing the state $36 million.

Top military official suggests President Obama still open to ground troops in Iraq: "[Joint Chiefs of Staff Chairman Martin] Dempsey added that American ground troops may be necessary if the growing global coalition of Arab countries doesn't adequately commit to the mission of defeating ISIS or if the threat from ISIS increases. The comments echo remarks made by Secretary of State John Kerry. Last week, Kerry reiterated Obama's public pledge before adding, "Unless, obviously, something very, very dramatic changes."

The President did announce he will deploy 3,000 troops to Liberia as the Ebola outbreak worsens: "The U.S. response to the crisis, to be formally unveiled later by President Barack Obama, includes plans to build 17 treatment centers, train thousands of healthcare workers and establish a military control center for coordination, U.S. officials told reporters. 'The goal here is to search American expertise, including our military, logistics and command and control expertise, to try and control this outbreak at its source in west Africa,' Lisa Monaco, Obama's White House counter-terrorism adviser, told MSNBC television on Tuesday ahead of the announcement."

Ryan Gosling is a daddy.

NY state senator wants to legalize marijuana for general use.

NASA suspected to announce that Americans will once again head to space from U.S. soil: "On Tuesday, the space agency planned to announce which one or two private companies wins the right to transport astronauts to the International Space Station. The deal will end NASA's expensive reliance on Russian crew transport…The major contenders include SpaceX of California, already delivering space station cargo; Sierra Nevada Corp., which is developing a mini-shuttle in Colorado; and Boeing, the veteran of the group that would assemble its crew capsules at Kennedy."