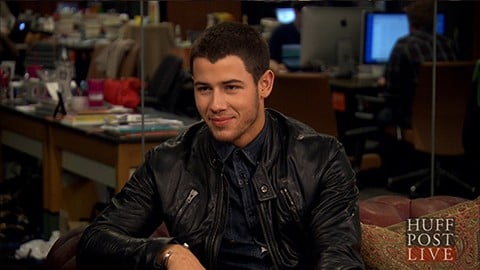 Nick Jonas has been making gay hearts flutter with his recent strip-tease at a NYC gay club and the revelation that the beefcake boxer he plays in the new series Kingdom will definitely be nude and quite possibly be gay. Today, the former Jo Bro told Huff Post Live that he welcomes the attention he's received from the gay community:
"I love it; I'm thrilled by that. I always had a pretty strong gay fan base, having been a theater kid…That's a community that I love and have embraced, and [they've] embraced me. I love them. They're so supportive."
Jonas also told MTV News of his revealing moves at an NYC gay club, "It's been a fun couple days partying with some of my gay fans…I love them to death and their support of me, so why not go out and hang?"
Why not, indeed. 
Watch the two interviews, AFTER THE JUMP…
And Happy Birthday to Jonas who today turns 22! Huff Post Live brought him a birthday steak to celebrate.