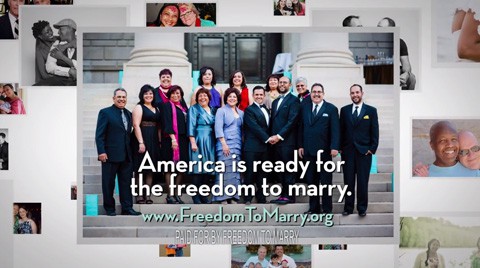 A new national ad from Freedom to Marry will air during Sunday morning network news in D.C. and on cable news next week. The ad, called "It's Time" highlights the states which still discriminate against gay couples and is timed to air as the Supreme Court begins its new term and plans to consider a number of marriage equality cases from various states.
Said Freedom to Marry President Evan Wolfson:
"The ad underscores the human costs of prolonging marriage discrimination. Every day of denial is a day of real and needless injury, indignity, and injustice for too many families across the country — and time matters. America is ready for the freedom to marry, 40 lower court rulings have affirmed the freedom to marry, even opponents are saying it's time to bring the country to national resolution — and it is, indeed, time."

Watch the ad, AFTER THE JUMP…