Stuart F. Delery, the gay senior Justice Department lawyer who successfully argued against the Defense of Marriage Act on behalf of the Obama Administration back in 2012, has been promoted to acting Associate Attorney General.
As the department's No.3 position, Delery has also become the highest-ranking openly gay official to ever serve in the Justice Department.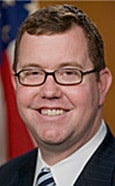 The New York Times reports:
As acting associate attorney general, the lawyer, Stuart F. Delery, will oversee civil rights, antitrust and environmental cases, among other matters, the Justice Department said. He is replacing Tony West, who announced this week that he was leaving the department.
Mr. Delery argued on behalf of the government in the appeals court case that ultimately led to a Supreme Court decision overturning the federal ban on same-sex marriage. If the Supreme Court takes up a case involving state bans on same-sex marriage, Mr. Delery would be expected to play a central role in developing the Justice Department's strategy on the case.
In addition to defending same-sex marriage, Delery has also argued on behalf of the federal government in defense of the Affordable Care Act and the government's right to collect bulk phone records.