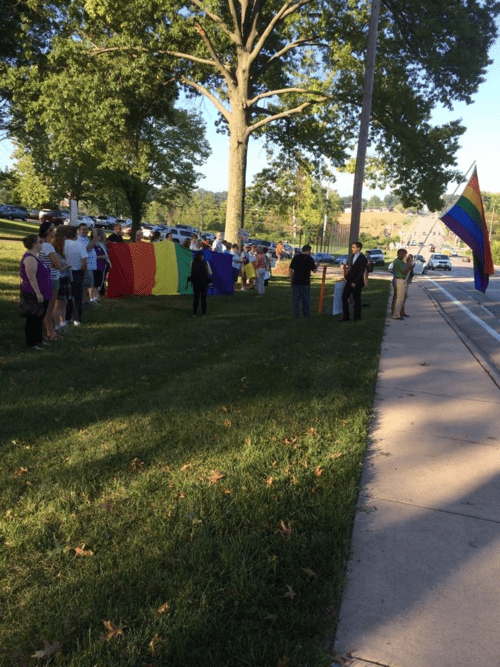 (brian kelly @brpkelly twitter)
Supporters rallied Friday morning for Olivia Reichert and Christina Gambaro, two gay teachers at Cor Jesu, an all-girls Catholic high school in the Affton, Missouri area, who were fired after administrators discovered they had married in New York.
The St. Louis Post-Dispatch reported on Wednesday:
Reichert said she and her partner were asked to resign after the school said in late July it received a copy of a mortgage application with the couple's names. The school said the couple had violated the moral contract faculty are required to sign as part of employment. The couple had married in New York over the summer.
"We understand that, as a Catholic institution, Cor Jesu has an obligation to ensure that its employees serve as Christian role models. However, because they do not enforce the witness statement in any other way, this is a blatant case of discrimination," Reichert wrote in a statement to the Post-Dispatch.
Chargers Allies, a support group for LGBT students, alumnae, and supporters, was created in response to the firings .
Gambaro (second image, right, via Facebook) thanked supporters on social media:
A rally was held Friday morning, the Post-Dispatch reports, made up of "alumnae; members of the nondenominational Metropolitan Community Church of Greater St. Louis; Faith Aloud, an organization concerned with reproductive issues; and the marriage equality group ShowMeNoHate:"
[The Rev. Wes Mullins, senior pastor at Metropolitan Community Church of Greater St. Louis] said the point of the rally wasn't to persuade the school to rehire Reichert and Gambaro but to reach out to current students, as well as ask Cor Jesu to rethink its policies.
"If you're a student there, do you really feel safe talking to any of the teachers now?" Mullins asked. "Are you going to talk to a principal now? I wouldn't."
Matthew J. Franck, director of the Witherspoon Institute's Simon Center on Religion and the Constitution, a think tank in Princeton, N.J., said while "it's easy to feel very sympathetic to the teachers, the school, as a Catholic school, has a kind of moral obligation to the church."
"It simply has to let people go who live openly in this way," Franck said. "I don't see how any Catholic administrator with any integrity can do anything but what they did here."
Some alumnae have vowed to withhold donations to the school until the matter is resolved in the teachers' favor.
Missouri currently has a ban on same-sex marriage. In February 2014 the ACLU and the LGBT rights group PROMO filed a lawsuit challenging the discriminatory law.
Listen to St. Louis Post-Dispatch reporter Jessica Bock discuss the firing with radio host McGraw Milhaven, AFTER THE JUMP…