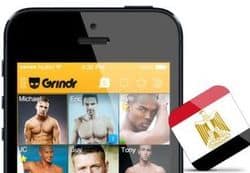 Grindr has responded to claims that its popular networking application is being used by Egyptian police to target and arrest gay men. Reports of Egyptian authorities using apps like Grindr to locate, expose, and jail men for violating the country's laws criminalizing public homosexuality first surfaced in August following a massive security leak that left most Grindr users location data open and exposed to the public. Grindr, which released  a preliminary patch to the security flaw in early September, assured its users that the hack allowing third parties to triangulate a specific person's location was not, in fact, an oversight on their part.
"Since October 2013, there has been a real manhunt for gay people in Egypt." Samia A., an underground LGBT rights campaigner told France24, "The police aren't just targeting well-known gay hangouts, they are increasingly raiding homes when they think there is an LGBT party going on."
As of October, 2013, some 77 individuals have been arrested in Egypt thanks to the Egyptian police's coordinated efforts targeting LGBT gatherings, something Grindr says it is trying to curtail.
"We monitor and review all reports of security issues regularly," representatives for the social network assured The Advocate. "As such, we continue to evaluate and make ongoing changes as necessary to protect our users."