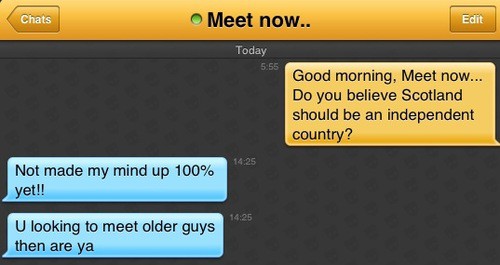 With neither the BBC nor any other UK media outlet paying for exit polling for the referendum on Scottish independence, there was a marked degree of uncertainty about which direction Scotland would vote during last night's vote.
News outlets and concerned citizens, however, needed only look at Tumblr user machotrout's Grindr poll to figure out that the UK would be staying intact. 
Over the past couple of days, machotraout polled several hundred Grindr users in Edinburgh whether they believed Scotland should be an independent country. 
The polls breakdown in responses:
NO: 114
YES: 101
Undecided: 24
Other opinion: 20
Indifference: 15
Evasion: 38
Bemusement: 13
Amusement: 2
Too horny to answer: 6
General rejection: 4
Did not respond: 318
machhotrout added that when only decisive opinions were taken into account, Grindr voted NO on independence 54%-46%, which is remarkably close to how the final vote went down (55.3% no -44.7% yes)
You can visit the poll HERE and check out more screen-grab images from the polling (some of the responses are quite funny)