Pastor James David Manning of ATLAH World Missionary Church in Harlem is back with another offensive, homophobic, and frightening sign. Manning previously warned African-American women that President Obama was responsible for unleashing white gay men on their husbands, and he whole-heartedly believes in the use of the word "faggot." Under a towering cross stating "Jesus is Lord," Manning has once again opted to spout hateful rhetoric and lies.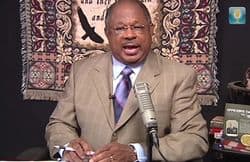 The New Civil Rights Movement reports:
"When the homos bullied the poor and needy in Sodom like they do in Harlem, Jesus fire and brim-stoned them," it reads. 
Manning would have you believe that's a quote from the Bible.
It's not.
Manning also believes that Michael Sam may marry a 9-year-old boy and that Barack Obama and Vladimir Putin are closeted homosexuals. It seems like someone may be losing touch with reality…
Photo via Real Stories Gallery on Twitter.