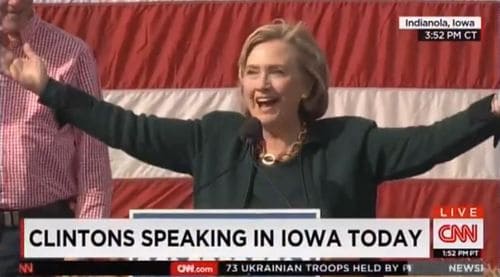 Hillary and Bill Clinton made a public appearance at the 37th annual Harkin Steak Fry in Indianola, Iowa this past weekend. Despite being a tribute to retiring Democratic Senator Tom Harkin, the more than 5,000 attendees treated the event more like a presidential rally, sporting "Ready for Hillary" paraphernalia.
Both of the Clintons encouraged the crowd, composed of Iowans and out-of-towners from Kansas and Kentucky, to remain active and engage in the Democratic party's Senate and congressional campaigns.
"Hello, Iowa, I'm back," Clinton intoned to the cheering crowd. "Let's not let another 7 years go by."
Clinton last spoke in Iowa after placing third in the 2008 Iowa caucuses behind Barack Obama and John Edwards. Despite not explicitly making any mention of her plans on running in 2016, Clinton took time to talk to her supporters about "that other thing."
"Too many people only get excited about presidential campaigns," she expressed. "It's true, I'm thinking about it. But for today, that's not why I'm here."
Despite her insistence on keeping the gathering focused on Senator Harkin, Harkin himself made a point of highlighting Clinton's career and assuring the crowd that there were "many more chapters to be written in the amazing life of Hillary Clinton."
Watch footage of Hillary Clinton speaking at the 37th annual Harkin Steak Fry AFTER THE JUMP…