India's government is asking the country's Supreme Court to reconsider its landmark ruling back in April recognizing transgender people as a third gender, The Wall Street Journal reports: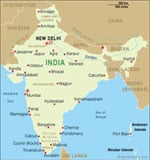 The government — led by the conservative Bharatiya Janata Party, which has deep roots in the country's Hindu nationalist movement — said in an application to the Supreme Court that the transgender ruling "may pose problems both practically and politically" and asked for clarifications and changes.
The application complained that the court's finding that the term transgender people can also apply to gay, lesbian and bisexual Indians, "seeks to create an ambiguity." 
It also argued that on procedural grounds it would "not be proper" for the court to classify the transgender community as part of India's backward classes, which are eligible for affirmative-action benefits.
Additionally, the government asked that the court to clarify the definition of "transgender." Approximately two million people are said to be transgender, or hijira, in India.
Homosexuality, meanwhile, is still criminalized in India after a stunning Supreme Court ruling last year. The Indian government has announced it has no plans to amend the newly reinstated law criminalizing homosexuality until the Supreme Court settles the issue.