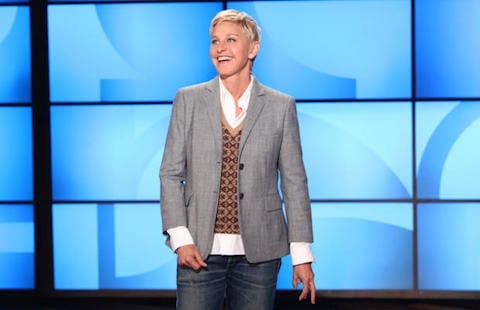 No discussion of the most iconic, influential and important LGBT pop-culture figures would be complete without mention of Ellen DeGeneres. The beloved comedian, actress and host is not only adored by legions of loyal viewers of her daytime talk show, but a recent survey also named her gay men's favorite celebrity endorser.
After a successful start doing stand-up in the '80s and '90s, Ellen left her mark on television history. Her sitcom, Ellen, made headlines when its titular character came out of the closet following DeGeneres' real-life coming out to Oprah at the height of her show's popularity. Ellen's shift into more LGBT-focused content (and, some speculate, waning network support of the gay-friendly content) led to a downturn in ratings, and it was canceled after the following season.
But, we hadn't heard the last of the funnylady from Metairie, Louisiana. She voiced Dory in Pixar's Finding Nemo (and will return in an upcoming sequel). Riding a wave of new celebrity-hosted talk shows, Ellen launched her own daytime gabfest in 2003. Eleven years later, the show is still a massive success, beaming DeGeneres' dancing and silly segments into the living rooms of millions every day.
Put on your dancing shoes and boogie down with some of our favorite Ellen clips, AFTER THE JUMP …
Ellen started by performing her observational stand-up comedy in the 1980s. The clip above, from a 1986 episode of The Tonight Show Starring Johnny Carson, marks her first appearance on national television . She became the first female comedian to be invited to chat with Carson on-air following her act.
The landmark 1997 coming out episode of Ellen featured guest spots from Laura Dern and Oprah (to whom Ellen DeGeneres came out to earlier that year). The episode aired to huge ratings following the media storm around Ellen's coming out on and off screen.
The Ellen DeGeneres Show became a fresh addition to the daytime talk lineup when it debuted in 2003. Not only is the openly-gay host a charming fit for the sunny format, but the show regularly features LGBT performers like Matt Bomer, Jim Parsons, Robin Roberts, Jane Lynch and others discussing coming out and gay themes in their work.
Ellen isn't afraid to take a stand either, and that's what makes her such an important media figure. She's an adorable agitator who can talk about bullying, the Boy Scouts of America and same-sex marriage to a huge mainstream audience. She awarded Constance McMillen (the teen whose school canceled prom instead of allowing her to bring her girlfriend) a scholarship for $30,000, praised Jason Collins, and often discusses her marriage to actress Portia de Rossi. She's also spoken out against organizations that have attempted to boycott her work or otherwise displayed intolerance. Our favorite stand she took was the emotionally-charged plea to end bullying in the clip above.
In addition to hosting her own show, she's also been a judge on American Idol, as well as host of the Emmy Awards and the Academy Awards. While hosting the 86th Academy Awards, her second time as emcee, she set a record for the most retweeted image ever with her star-studded selfie.
What are your favorite Ellen moments?