A federal judge yesterday approved an agreement for Indiana to recognize the marriage of two women – one of whom is terminally ill, the Indiana Times reports: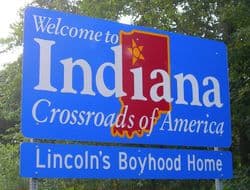 Veronica Romero and Mayra Yvette Rivera filed a lawsuit in U.S. District Court this week asking a judge to order Indiana to recognize their Illinois marriage because Rivera has advanced ovarian cancer.
The couple's lawsuit named Indiana Attorney General Greg Zoeller; Indiana Health Commissioner William VanNess; and Lake County Clerk Michael A. Brown, who issues marriage licenses.
A joint stipulation was filed Wednesday in which Indiana agreed to recognize the couple's marriage and, in the event of Rivera's death, issue a death certificate listing her as married and recording Romero as the surviving spouse. The Indiana State Department of Health also agreed to assist local health departments, funeral homes, physicians, coroners and others involved in completion of a death certificate to understand their duties in the couple's case.
The case has been stayed while Indiana appeals last week's 7th Circuit ruling overturning its gay marriage ban to the U.S. Supreme Court.