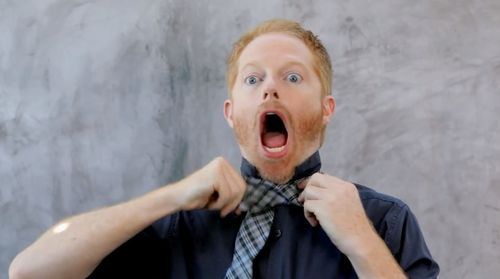 Funny man Jesse Tyler Ferguson is an established, out gay presence in Hollywood. He plays one half of recently married duo Cam and Mitch on Modern Family and married his own hubby, Justin Mikita, last July. Ferguson was not always so out and proud, though, and he recently shared his coming out experience with fellow comedian Aisha Tyler on her podcast "Girl on Guy." 
HuffPost reports:
"Well, I was caught stealing gay porn when I was 14," Ferguson, who was raised in New Mexico, admitted. "So, I always considered that my coming-out. … It was so humiliating. I had been stealing porn for a while. I had quite a little collection. And I would bring it into the house, and then I'd get nervous, so I'd hide it under the mattress, or I'd hide it behind a shed in the backyard. And then it would get rained on, and I'd have to go get the barbecue tongs to [get it out]."
Ferguson said that one of his stolen goods set off an alarm. The woman behind the check out counter then took him to a back room…and called his father. 
"When I stole the porn it was like, 'OK, are you gay?' And I was, like, 14. I didn't really know. I didn't know what I was going through. But then in my later teen years I did come out to him, and it was like he needed to be told three times. … [When I was 21] he asked me if I had a girlfriend at the time, and I was like, 'Dad! You know I'm gay, right?'"
Ferguson's father apparently had difficulty accepting his son's sexual orientation, but that did not stop him from giving an emotional speech the night before Ferguson and Mikita's wedding. 
"It was a process for him as well. It was sort of a coming-out process, and he had to figure out how to deal with having a son that wasn't the ideal son that he had," [Ferguson] told Oprah Winfrey last year.