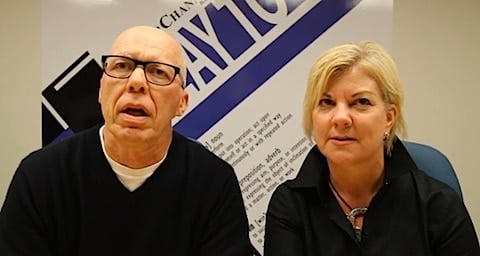 Kimberly and Beck, the Rochester, NY radio hosts who were fired from 98.9 'Breakfast Buzz' show after unleashing a tirade of disturbing and offensive remarks about transgender people in a 'discussion' of the city's new trans health benefits, have been hired by Clear Channel station Radio 95.1.
The radio duo apologized after being let go over the offensive segment (which you can listen to HERE), saying, in part:
We are very sorry for the hurt and pain we have caused anyone, especially those in the Transgender community and their friends and families. What we said and the manner in which we handled ourselves was wrong; we take full responsibility and we deeply apologize to any and all that we offended.
Our attempt was to discuss a controversial healthcare issue; however our lack of sensitivity and understanding of the Transgender people and their plight created 12 minutes of radio we that wish we could take back…
…It is our hope that this situation can be a time of learning and understanding about the Transgender community and not a time for additional anger and insensitivity. This is a community of individuals who struggle painfully to be themselves and find the support and comfort they deserve. We believe that this can be a chance for all of us to stop the ignorance and find our humanity."
In an announcement released today about their new show, Kimberly says:
"We took some time to reflect and kind of figure out what went sideways and we made the statement that we were sorry and made amends to the transgender community and we're just glad to be back."
Kimberly and Beck say they're doing the same kind of show they have been doing for 13 years and don't deny they might say something else that gets them in trouble.
Says Kimberly:
"Oh we'll probably say stupid things. I mean, there's no doubt. We're all human…There are things that you say that in a minute you wish you could take back. It's the nature of the business. We never intend to hurt anyone."
Adds Beck:
"It's live radio. In the area where we live, once in a while we overstep our boundaries."
Kimberly and Beck do not specify the amends they made to the trans community or how their understanding of transgender people has changed in the time since the controversy. Perhaps they will do so on their show.
Watch the duo's announcement today, AFTER THE JUMP…(warning:autoplay)