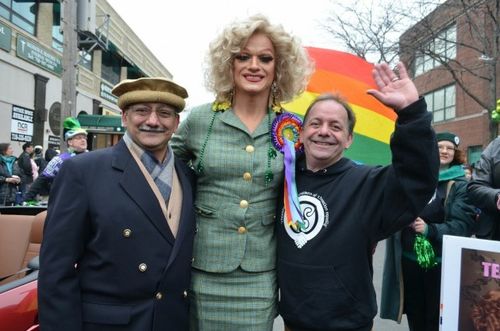 Controversy continues over New York's St. Patrick's Day Parade's policies, and one group is not taking 'no' for an answer.
Yesterday morning, Irish LGBT groups held a press conference on the steps of the New York Public Library. They say that parade organizers have barred them from joining the parade, allowing only one corporate LGBT group to participate. They also claim parade organizers are excluding LGBT groups under the guise of wait-listing. Quoting from Irish Queers' website:
Last week parade organizers announced a secret deal permitting only the gay employee group of the parade's corporate sponsor […] ILGO was also told by the parade organizers to "apply to march". The parade organizers – many of the same people who will review our application now, told ILGO that they were on a waiting list, which was a lie. Applying again is 'our gesture of goodwill.'
The corporate group in question is OUT@NBCUniversal, and sources tell The Journal that the only reason they are being allowed to march is that NBC threatened to boycott broadcasting the parade if the group was not accommodated.
One thing is for certain, if gay groups are not allowed in the parade, it will once again be missing out on the life of the party. Take drag queen Panti Bliss (pictured above), for example. If you're Irish, it's likely you know Panti. If not, you may remember her from her viral "It's Oppressive" rant against homophobia. In the picture above, she's tearing it up at the gay friendly "St. Pats For All" parade in Queens. If the parade organizers continue with their policies, Panti and other LGBT people will have to hold a separate, inclusive celebration, once again.
Hopefully next year, we can all come together in support for Ireland.
For proof from 1991-1992 that homophobia at the parade is not a new issue, check out video AFTER THE JUMP…
And in related news, Catholic League whiner Bill Donohue has announced that he will boycott next year's parade because he feels "betrayed."
Writes Donohue: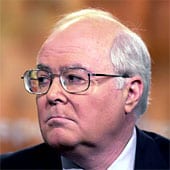 For the past two decades I have been the parade's most vocal defender of its rules. Repeatedly, I have said that gays have no more been banned from marching than pro-life Catholics have: members of both groups can march with other units; they simply can't march under their own banner. Why? Because the parade is not about gays or abortion, or anything other than St. Patrick. […]
My reasons for withdrawing from the parade have nothing to do with Cardinal Dolan or with gays. It has to do with being betrayed by the parade committee. They not only told me one thing, and did another, they decided to include a gay group that is neither Catholic nor Irish while stiffing pro-life Catholics. This is as stunning as it is indefensible.
[thanks to The Journal for video; image by GRCC, via The Journal]