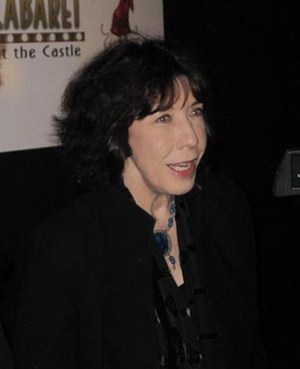 Actress and comidienne Lily Tomlin will be one of 5 recipients of this year's Kennedy Center Honors, becoming the first out lesbian ever to receive the artistic recognition, The Advocate reports:
While several women previously honored have been rumored to be lesbian or bisexual, such as Lynn Fontanne and Katharine Hepburn, Tomlin is the first out female honoree. Numerous gay or bisexual men have received the Kennedy Center Honors, including Tennessee Williams, Stephen Sondheim, Aaron Copland, Edward Albee, Elton John, and Merce Cunningham.
Tomlin and another out lesbian performer, Ellen DeGeneres, have both received a different Kennedy Center award, the Mark Twain Prize for American Humor, Tomlin in 2003, DeGeneres in 2012.
The Kennedy Center Honors are given annually to "five extraordinary individuals who have spent their lives elevating the cultural vibrancy of our nation and the world," according to Kennedy Center Chairman David M. Rubenstein. Remarking on Tomlin's contributions, Rubenstein commented, "From the days of her early television and theatrical appearances, Lily Tomlin has made us laugh and continues to amaze us with her acting talent and quick wit." 
Tomlin is slated to team up with her 9 to 5 co-star Jane Fonda for a new Netflix series Grace and Frankie, that centers on a friendship that's formed when the women find out their husbands are having an affair. 
This year's other Kennedy Center honorees include singer Al Green, actor Tom Hanks, ballerina Patricia McBride, and singer-songwriter Sting. The recipients will be honored with a gala that will be televised on CBS on December 30 at 9 p.m. EST/PST. Anna Kendrick performed in last year's gala, offering a special tribute to Shirley MacLaine.