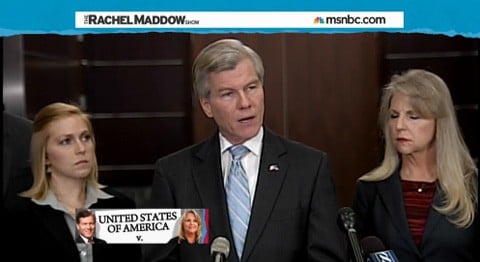 Former Virginia Governor Bob McDonnell was convicted Thursday on 11 of 14 corruption charges while his wife was convicted of eight, the NYT reports:
The 7-man, 5-woman jury returned its findings on its third day of deliberations in United States District Court for the Eastern District of Virginia. The McDonnells were acquitted of lesser charges of making false statements on loan applications. Ms. McDonnell was convicted on a charge she alone faced, of obstructing a grand jury investigation by trying to make a gift of $20,000 worth of designer dresses and shoes appear to have been a loan. .
The McDonnells were indicted on 14 counts of conspiracy, bribery, extortion and related charges stemming from what prosecutors said was a scheme to sell the office of governor, which Mr. McDonnell occupied through January this year, for $177,000 in gifts and cash from a dietary supplements executive.
Sentencing is set for January. The couple could face decades in jail.
Rachel Maddow detailed the charges in January and how the indictments all went down. Check out her segment, AFTER THE JUMP…