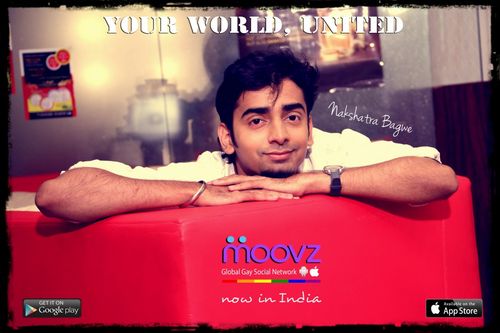 Moovz, a social network for gay men, has just signed Mumbai-based actor Nakshatra Bagwe as one of its international brand ambassadors. Bagwe, 23, came out publicly last year at India's first LGBT-oriented flashmob, a decision that brought him to the attention of the Indian media and inspired him to begin filming a documentary about being gay in India. His modest rise to fame for coming out brought the young filmmaker's project to the international independent film circuit
"The night I came home with my trophy my mother was waiting for me," Bagwe said of winning his first award. "In the same dining room where I had my coming out five years before, she told me how proud she was of me."
Launched in early January of this year, Moovz is built on the premise of encouraging its users to be open about who they are. Unlike hookup applications like Grindr and Hornet or web platforms like Adam4Adam, Moovz's desktop and mobile applications are meant to foster community growth.
"This revolutionary platform enables users to share their own content, chat in real-time, and interact with others," Moovz CEO Liav Eliash told the Huffington Post. "We believe that providing our Moovz platform for people around the globe who already have things in common will enable them to interact on a higher level and connect as a community."
Moovz's move into India comes at an interesting time in the country's position on its LGBT population. Section 377 of the Indian Penal Code that criminalizes sexual acts "against the order of nature" like homosexuality, was declared as unconstitutional by the High Court of Delhi in 2009. India's Supreme Court overturning the decision in 2013, asserting that any repeal of 377 would be a matter to be dealt with by Parliament rather than the judiciary body.
"[Moovz has] identified a big target group here and that the LGBT community is not any 'miniscule' section," Bagwe told the Hindustan Times. "It's time for us to come out as well and not feel shy about our sexuality."
Watch a trailer for the Moovz social network AFTER THE JUMP...