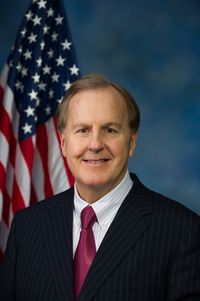 North Carolina congressman Robert Pittenger fell into some hot water last week after a Think Progress reporter asked him his thoughts on the Employment Non-Discrimination Act. Pittenger responded by referring to the right to employ/fire employees as one of "the freedoms we enjoy." Last Wednesday he attempted to right this wrong by issuing a factually incorrect statement including the line, "Americans are well protected already." Now, though, Pittenger is claiming that he never spoke those words, at least not in the context of gay and lesbian employees.
The New Civil Rights Movement reports:
MSNBC last week reported that Pittenger's communications director denied "that Pittenger discussed 'firing gay individuals,'" despite the fact that the question specified "gay or lesbian" people.
"After the event, a blogger asked for an interview and then asked about [the Employment Non-Discrimination Act]. His opposition to ENDA was 'translated' into 'firing gays' by that blogger," the director, Jamie Bowers, wrote in an email to msnbc on Friday.
While Pittenger does quickly veer away from explicitly discussing the rights of gay and lesbian employees in the response, his entire statement is subject to be critiqued based on the question asked. At this point, it feels like a shoddy cover-up for a botched response. 
Listen to the audio of the interview, AFTER THE JUMP…