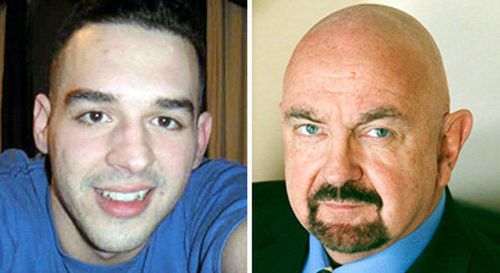 A gay police officer from West New York, New Jersey has filed a lawsuit against the city's police department alleging he suffered harassment, intimidation, and discrimination on the job due to his sexual orientation, 
The Jersey Journal reports:
Officer "Michael [Acosta, pictured left] is the first openly gay member of the department and he has been the victim, due to his sexual orientation, of constant threats and intimidation," said his attorney, Gerald Resnick. "Such discriminatory attitude on the basis of sexual preferences are not tolerated in New Jersey and especially forbidden by the New Jersey laws against discrimination."
The suit says, "It has been well known by members of the WNYPD and Antolos that Acosta is gay, lives with a partner" and is "the only openly gay police officer in the WNYPD."
Among the allegations in the suit is that [Police Director Robert] Antolos showed Acosta "his tattoos (one of which is a skull with two lightning bolts) and his lightning bolt key chain in an attempt to intimidate Acosta. It says Antolos stated that the "police department will no longer be run by one patrolman," while "staring at plaintiff in an effeminate manner.''
Acosta also claims he was not provided with overtime shifts available to other officers and that he was singled out for "baseless" internal affairs charges against him. 
Antolos and his police department must respond to the lawsuit by September 18.