New music by Lionface, The Assist, SOAK, Aqualung, APES, SALES, brought to you by Deadly Music!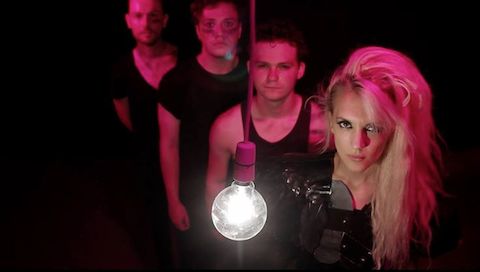 New Music is a fresh column brought to you by Jim Redmond who writes for Towleroad and for Irish music website Deadly Music!, which was shortlisted for Best Irish Music Blog 2014. This will be appearing in addition to our regularly scheduled OXD Mirror.
Deadly Music! covers mostly alternative and indie genres but there's also a focus on electro pop, electronica, ambient, modern classical/neoclassical, post rock and drone.
Generally you'll find that this column will avoid most mainstream music – unless it's particularly deadly – to give new, emerging and fringe artists a chance. All tracks are available on a Soundcloud playlist, some of them on a Spotify playlist….both of which are embedded at the end of this column.
Enjoy!
Lionface: "Girl"
Lionface is Kat Marsh from Bristol in the UK and she makes what she calls Battle Pop which perfectly describes the aural assault of her latest track Girl.
With two fairly successful EPs under her belt – in the real world, not just on blogs – Lionface makes it clear on Girl that she's not taking any shit.
The video is all retro Streetfighter graphics, the song all boys-are-dicks pop punk noise.
Think Spice Girls with added balls.
***
The Assist: "The Assist"
The Assist is an indie rock act from Birmingham in the UK. Their first two songs Control and Speak It Aloud were fantastically chippy, sharp numbers for fans of old-school baggy Brit Pop.
Despite the swagger and promise of their earlier work, their eponymously titled official first single – released in October – is an unexpected gem and it's all about how damn good they are and their intention to take over the world.
Check out four more tracks and some killer playlists, AFTER THE JUMP…
***
SOAK: "B a noBody"
Making serious waves on the festival circuit in the UK and Ireland this past year, singer-songwriter SOAK (aka Northern Ireland-based teenager Bridie Monds-Watson) has announced a new single to be released on October 31st.
B a noBody follows on from the success of Blud. Everyone is the next-big-thing but based on what little she's released so far – and the attention she's been receiving from the likes of CHVRCHES – SOAK could be huge.
SOAK will be doing a few gigs around the UK and Ireland in November.
***
Aqualung: "Tape 2 Tape"
Aqualung – aka singer-songwriter Matt Hales from England – has been on a writing streak for the last four years, working with the likes of Lianne La Havas, Alex Clare, SOHN, Prides, English singer-songwriter Luke Sital Singh and Rihanna collaborator Mikky Ekko.
With his first album in four years, Matt has dropped the singer-songwriter element and launched full on into experimental mode, creating a series of ten tracks that each tell a story "but rather than traditional tales of love, life or loss, they are stories of sound (often found sound), of methods of creation and of the process of collaboration."
Built around photocopier noise – don't stop reading – Tape 2 Tape (featuring Joel Compass) is initially a sparse, somewhat cold piece – a bit like Thom Yorke solo – that gradually launches into glitchy layers, a guitar solo and something that sounds like a 70s cop show theme tune.
Sounds awful in theory but give it a go.
***
APES: "Strange Tastes"
APES is an indie rock outfit from Melbourne, Australia with killer hooks the likes of which haven't been heard since Pixies.
There's always a worry with new bands that their first track is the highlight and the only way is down but APES' latest Strange Tastes is edgy, quirky indie rock that recalls The Strokes and The Killers.
***
SALES: "getting it on"
Finally for this week – based in Orlando, Florida, SALES is a collaboration between friends Lauren Morgan and Jordan Shih.
The duo has been recording together on and off for years, doing "vocal & instrumental improvisation, sampling, a lil' bit of chopping & screwing, and of course, friendship."
Their 6-track self-titled debut EP is a mix of retro indie pop with an occasional harsh edge and inspired, sweet, breezy love songs like getting it on.