Minnesota Vikings coach Mike Priefer, who was suspended for two games and required to attend sensitivity classes following allegations earlier this year that he was active in promoting locker room homophobia and anti-LGBT hostility, is speaking out about his time away from the team while at sensitivity training.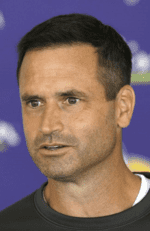 The AP reports:
"It was very positive," Priefer told reporters at team headquarters Thursday in his first public comments since the suspension was lifted on Sunday night. "It was very professionally done. Like anything else in life, if you put a lot into it, you're going to get a lot out of it. I tell my kids that. I tell our players that. So I went into it with a great attitude and I got a lot out of it, to be honest with you."
When asked if he's changed in any way after being deluged with criticism for making the comments and taking the subsequent training, Priefer said, "I don't know if I've changed, but I think I have more awareness of my surroundings and other people around me. I think I'm a better man because of it."
Considering that this is the guy who allegedly said "We should round up all the gays, send them to an island, and then nuke it until it glows," the fact that Priefer isn't sure if he's had a change of heart is disturbing to say the least.