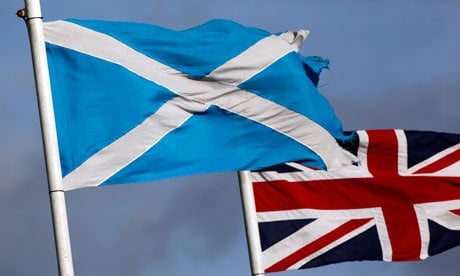 The United Kingdom will for now stay intact as voters in Scotland rejected a referendum last night that would have granted it independence. With all 32 councils declared, the final results stand at 55.3% no on independence votes, 44.7% yes. 
The Guardian reports that the yes campaign scored a handful of notable successes – succeeding in the largest city of Glasgow by 53% to 47%, winning 54% in West Dunbartonshire and a 57% win in Dundee.  
All throughout the campaign, celebrities voiced their opinion on whether or not Scotland should leave the UK and become an independent country.
Those in favor of independence included Sean Connery, Alan Cumming, Franz Ferdinand, Bjork, Russell Brand, Gerard Butler, Rhys Ifans, and Morrissey.
Those opposed included Simon Cowell, Patrick Stewart, Sting, Mick Jagger, Tom Daley, David Beckham, Hugh Grant, Susan Boyle, J.K. Rowling, Eddie Izzard, John Barrowman, Helena Bonham Carter, David Tennant, Dame Judi Dench, Simon Cowell, Ewan McGregor, and Emma Thompson.
Others, such as James McAvoy, Billy Connolly, Annie Lennox, Pierce Brosnan, and Hugh Laurie remained largely neutral. 
And for American audiences that were tuned-in to the results last night, Brett Belding helped put things into context:
Just in case you don't understand the significance of #ScotlandDecides, the last time Scotland was independent was before America existed.

— Brett Belding (@bbelding) September 19, 2014