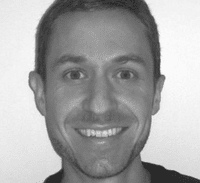 SCRUFF CEO Eric Silverberg took to The Huffington Post to give the internet a brief, but insightful, lesson in "trilateration," the process through which a person's specific location can be pinpointed with a few bits of information and a little bit of know-how.
"The most important thing you should know about location-based apps is this: Any app that shows relative distance between members can be used to pinpoint your location." He explains. "While there are measures we have taken to protect our community, it's critical that all users understand the benefits and limitations intrinsic to location-based apps."
All mobile social networking apps with geo-location functionality can approximate a user's general location, Silverberg explains, but a basic understanding of geometry can easily reveal a user's position even after deciding to turn off detailed GPS tracking features:
"If I know you are 1 mile away from me, but I don't know which direction, then the circumference of a circle, centered at my location, defines the set of possible places you could be. If I simply move to two other places and record your relative distance, with those three readings I can calculate your location."
According to Silverberg SCRUFF has attempted to circumvent some of the security "flaws" inherent in all location-aware services by randomizing users' location data on SCRUFF's backend. Every phone or tablet using the SCRUFF app sends its location information back to app's servers so that other users can request it upon tapping a profile. For those users who select to have their locations hidden from the general public, SCRUFF will go so far as to spoof where a person actually is.
"This means that, if [a user] lives in the West Village in NYC, he could potentially appear in between two people in SoHo," said Silverberg."[We also] take density into account, so if you live in the city, your location will be randomized by a few blocks, but in the country it could be a few miles or more."