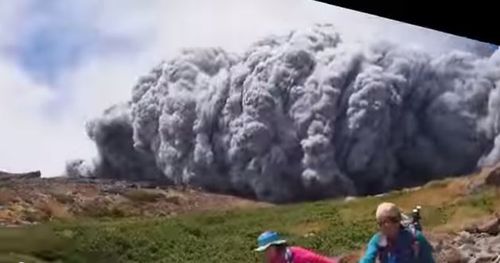 Dramatic footage from the the Mount Ontake volcanic eruption in central Japan over the weekend, as hiker Kuroda Terutoshi and his party race to find safety from the ash cloud chasing after them. 
Watch, AFTER THE JUMP…
The Guardian reports on the rising death toll:
Five more bodies have been found near the peak of an erupting Japanese volcano, before rescuers were forced to suspend their search due to fears of toxic gas.
The grim discovery brings the number of people feared to have died in the Mount Ontake eruption to 36. The volcano erupted without warning during a busy hiking weekend. […]
A Japanese army official who took part in the search said rescuers had worn helmets, bullet-proof vests, goggles and masks to protect themselves from any fresh eruption.
"I saw rocks up to probably one metre across [that had been thrown through the air]," he said, adding the search had been difficult and involved digging through ash.
Footage of military helicopter rescue of stranded hikers: