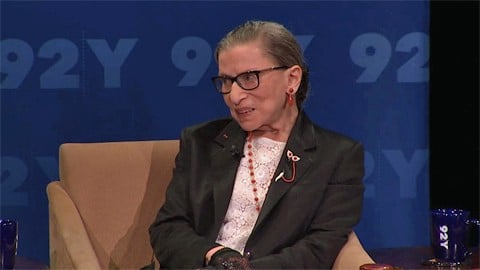 Supreme Court Justice Ruth Bader Ginsburg sat down with NPR's Nina Totenberg for a conversation at the 92nd Street Y which was streamed online.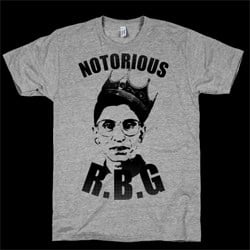 Ginsburg was asked about the Court's recent refusal to take up any of the marriage cases presented to it, setting in motion the legalization of same-sex marriage  in numerous states.
Ginsburg said that since all the appellate courts have so far been in agreement, there has been no need:
"Nina, as you know when there's no disagreement among the Courts of Appeals, we don't step in. The major job that the Court has is to keep the law of the United States more or less uniform, so when Courts of Appeals disagree about what the law of the United States is, then we are obligated to grant review. If there had been a court of Appeals on the other side, we probably would have taken that case, but up till now, all the Courts of Appeal agree, so there is no crying need for us to step in."
When asked whether, with so many states having marriage equality, there is even a possibility that the country could reverse course on the issue, Ginsburg said:
"I can't give an opinion on that."
Ginsburg has said in prior remarks that the Circuit to watch would be the Sixth Circuit, whose marriage decision we're still waiting on.
Watch (marriage discussion starting at 4:20), AFTER THE JUMP…
Ginsburg also told Totenburg about the well-known "Notorious RBG" t-shirts.
The Justice said she has a large supply of them:
"I think a law clerk told me about this tumblr and also explained to me what Notorious RBG was a parody on. And now my grandchildren love it and I try to keep abreast of the latest that's on the tumblr…"
And read our legal editor Ari Ezra Waldman's column from earlier this month on why we may not even need the Supreme Court HERE.