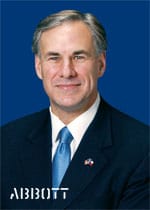 In an interview with the San Antonio Express-News, Texas Attorney General Greg Abbott failed to give a concrete answer when asked whether he would have defended a prohibition on interracial marriage had he been in office 50 years ago. 
Abbott, who is running for governor this year, filed a brief with the Fifth Circuit earlier this month asserting that his state's ban on same-sex marriage should remain in place because it reduces out-of-wedlock births. 
Lone Star Q reports:
"Right now, if there was a ban on interracial marriage, that's already been ruled unconstitutional," Abbott told the San Antonio Express-News editorial board.  "And all I can do is deal with the issues that are before me … The job of an attorney general is to represent and defend in court the laws of their client, which is the state Legislature, unless and until a court strikes it down."
When Express-News' Peggy Fikac told Abbott his answer was unclear, Abbott replied:
"Actually, the reason why you're uncertain about it is because I didn't answer the question. And I can't go back and answer some hypothetical question like that."
Back in February, Abbott's Democratic opponent, state senator Wendy Davis, told the paper she supported marriage equality and called on Abbott to stop defending the unconstitutional ban on gay marriage.