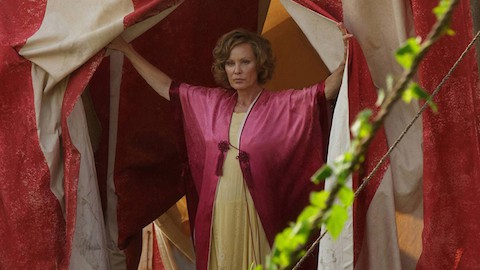 Step right up, and feast your eyes on the latest incarnation of American Horror Story. Tonight's Freak Show premiere transported viewers to Jupiter, Florida in the 1950s to explore the wild world of sideshow performers and the killer clowns who stab people around them.
If you were concerned about the show supposedly moving toward a less-campy approach than last season's Coven story, you can rest assured there was plenty of delicious absurdity still to be found. Tonight's over-the-top musical number was one of AHS's best moments and, despite the early comparisons to season two's Asylum, this is a much more colorful story (in every way) thus far.

Rehash what went down in tonight's premiere, and share your thoughts in the comments, AFTER THE JUMP …

Sisters Bette and Dot Tattler (Sarah Paulson) share everything: clothes, secrets, a vagina. The conjoined sisters inhabit two distinct heads, which crowd together on top of her (their?) broad shoulders. Bette appears sweeter and simpler than her sister, and is wonderstruck by the world around her (particularly the films she reads about in magazines — "In glorious technicolor!"). Dot, meanwhile, is a bit more prudish and ornery.
Another thing they share is an overbearing mother who keeps them locked away in secret in their farmhouse. Mama Tattler claims it's to protect them, but if Bette doesn't get to see Singin' In the Rain, she'll just … she'll just … well, she'll just murder her mother! 
And so she does. Dot, resentful at Bette for forcing her to commit murder and resentful at herself for failing to stop it, stabs her sister/self. The injured girls and their mother's dead body are discovered by the milkman.
The story grabs the attention of Elsa Mars (Jessica Lange), the owner/operator of the local sideshow, Fraulein Elsa's Cabinet of Curiosities. She's convinced she's a star, having been a cabaret act in Germany before helming the freak show. She sweet talks her way past the candy striper (Grace Gummer, a.k.a. Meryl Streep Jr.) and into the Tattler sisters' room. When they fail to drum up a passable alibi for their mother's murder, Elsa advises them that they better get their story straight before folks get suspicious about their burglary-gone-wrong tale.
To further complicate matters, it's not the only murder plaguing the Jupiter community. A seriously scary clown is out and about, breaking up sexy picnics, murdering boyfriends, kidnapping girlfriends; breaking into houses, murdering parents, kidnapping children. Twisty the Clown is keeping his kidnapped victims in a dilapidated trailer. His motives are still unclear, but he does attempt to show off some of his clowning skills before a popped balloon animal sends him into a terrifying rage. So far, his two captives are unharmed.
The authorities are starting to conflate Twisty's murders with the Tattlers' mother. Before they're implicated in a full-blown murder spree, they split from the hospital. Elsa is happy to take them in, as she feels the conjoined sisters are exactly what the failing freak show needs to reinvigorate attendance. She's already had to use her feminine wiles to keep them from eviction, so this may be her last hope.
When they arrive at the camp, they meet a variety of the performers. Among them, of course, is Ethel, the bearded lady (played by Kathy Bates, doing an accent that could only be described as Edna Turnblad After Dentist). There's also the return of Asylum's Pepper (Naomi Grossman), along with a male microcephalic counterpart.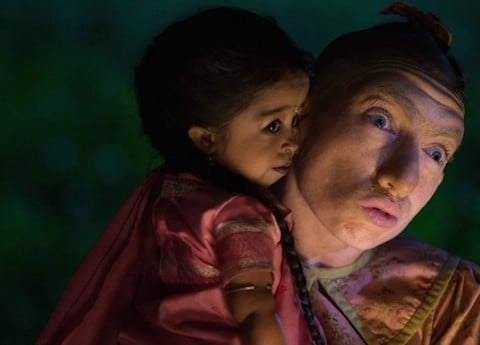 (We also get a barely-explained glimpse at something going down at the camp involving Grace Gummer's candy striper getting high at the freak show and having an orgy, but it all happens off-screen. It seems to exist solely for Elsa to passionately lecture the candy striper about how the real monsters are outside the tent, don't judge us, blah blah blah.)
The most notable member of Fraulein Elsa's Curiosities, however, is Jimmy Darling (Evan Peters). The Tattler girls are smitten, and, honestly, so am I. Peters — whose mopey teenage schtick in season one and last season's mute FrankenKyle did little for me — is in total heartthrob mode, obviously channeling a little Johnny Depp in Cry-Baby. He's got a grin here that makes knees weak. Unfortunately, it's not his grin the local housewives are paying him for. Instead, he's being rented out to parties to use his deformed, long fingers to pleasure women.
When a cop finally finds the twins at the grounds, Jimmy snaps, killing him. The darling Darling rallies the performers all together to remind them that they need to protect each other before the whole group gets to hacking the officer to pieces … all with Twisty watching from afar.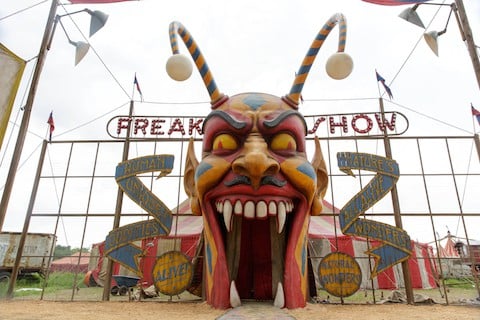 The twins' presence attracts two audience members, Gloria and Dandy Mott (Frances Conroy and Finn Wittrock, respectively). The troupe puts on a spectacle, with Elsa belting David Bowie's "Life On Mars" in a fabulous pantsuit, but the Motts are unimpressed. They're more interested in how much it costs to buy one (two?) of the performers. Dot and Bette do not want to be sold; they want to stay with their fellow freaks.
The Motts' apathy to Elsa's performance (and Mama Mott's scathing critique of Elsa's singing) sends the fraulein into deep despair. That's when we get the big reveal that Elsa's not only the leaders of this band of freaks, she's also a member. Her haughty attitude has been concealing her own physical disability: she's missing most of her legs.
What did you think of the premiere episode?