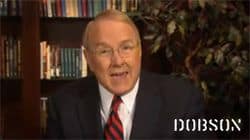 James Dobson, Focus on the Family founder and generally unpleasant individual (see that time he linked gay marriage to the Sandy Hook school shooting), has taken to the pages of his October newsletter to warn Americans that they are sliding toward irreversible damnation. Dobson attacks various judicial leaders along the way, including Towleroad favorite Richard Posner, claiming that they "are leading us toward perdition." He makes his real point, though, by comparing the United States to the biblical cities of sin, Sodom and Gomorrah.
Right Wing Watch reports on the newsletter:
Modernists, libertarians and atheists today recognize no condemnation of sexual perversion in the Bible. However, this historical account illustrates how God views it. The outrageous behavior of the wicked men of Sodom and Gomorrah sealed their doom. Fire and brimstone fell from the sky on both cities and utterly destroyed them. Henceforth, men who commit homosexual acts have been called "Sodomites," although that term has become politically offensive since the U.S. Supreme Court legalized and protected sexual perversion…
One thing is certain. God is the holy Sovereign Lord of all heaven and earth, and He will not be mocked. His justice will prevail when unrestrained lust, violence, perversion, and other forms of grievous sin have run their course…
Today, I have a continuing, unrelenting burden for today's children and young adults who are being warped and twisted by those who would "fundamentally change" the world in which they are growing up. Everything we have known and valued is being swept away. 
Sorry, James. It seems the slippery slope toward Sodom that you so fear may only get slicker.