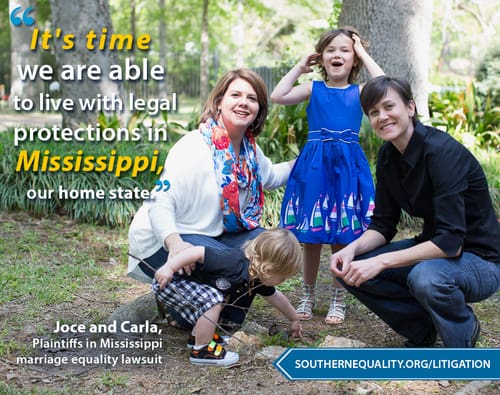 Earlier this week we reported that attorney Roberta Kaplan, who represented Edie Windsor in the case that struck down DOMA, had filed a challenge to Mississippi's gay marriage ban on behalf of two gay couples.
That challenge has been put on a fast track by U.S. District Court Judge Carlton W. Reeves, who has set a hearing in the case, Campaign for Southern Equality v. Bryant, for November 12 at 9 am.
Said Kaplan, via press release:
"By setting the schedule that it did, the Court clearly appreciated the need for expedition on issues of such great constitutional and practical import. We look forward to presenting our arguments to Judge Reeves on November 12. We are confident that, having read the briefs and heard our arguments, the Court will grant the relief that our clients seek – namely, the right to be treated like all other Mississippi families who love and care for each other, pay their taxes, and do their best to raise their kids."
Plaintiffs are also represented by Mississippi attorney Robert McDuff of McDuff & Byrd, based in Jackson, Mississippi.